Spring is around the corner. Once the warm weather comes, we all want to enjoy the outdoors and soak up the sun. But, no one wants to spend their time in a space that looks worn out and tired. The good news is that many projects can help add life back to your front and backyards. So, here are 16 easy outdoor updates for Spring, Especially for Post and Beam homes.
Limewash Your Brick
If your home has brick interiors that are starting to look written, it may be time to limewash your bricks. This thin white coating not only protects your bricks mortar from the elements but can increase your home's curb appeal as well. Limewash used powdered limestone to give the classic white look to your bricks. It is inexpensive and makes for a simple DIY. This simple solution will help keep your home looking updated for 5 to 7 years before needing another application. If the white brick appeals to you, limewash your brick for an easy update to your home this Spring.
Paint Your House
Painting the exterior of your home is another great project for Spring. A fresh coat of paint will help improve your home's curb appeal by making your home look better. However, painting your home can have hidden benefits as well. For starters, when you paint the exterior of your home, you can check for any damage from insects and take care of it before it becomes a bigger issue. Additionally, painting your home helps protect your home from the elements, extending the life of your siding. While you can paint your home yourself, it's important to make sure it's done properly. If you'd rather not climb the ladder, hire a team of professional painters. Either way, this affordable and simple outdoor update for Spring can completely transform the look of your home.
Update Your Window Shutters
If you already have window shutters, you know how beneficial they can be. If you're looking for a quick and easy update to your home's exteriors, think about updating your window shutters. Giving your current shutters a fresh coat of paint can give your home a fresh new look. If you don't have shutters or want a different look for your home, select a unique style of shutters. Shutters are available in several materials, including wood, fiberglass, vinyl, aluminum, plastic, and steel. They are also available in numerous styles, such as raised panel, louvered, board and batten, or Bahama style. Be sure to pick a shutter style that complements the style of your home. This simple update to your home can entirely change how your home looks, giving it a new life.
Install A Pergola
Suppose you're looking for something to take your patio to the next level, install a pergola. A pergola has four support beams with a decorative roof design and no roof. It's not a shelter but rather a decorative element for your space. You can easily purchase a pergola and install it in the afternoon. Many times pergolas are decorated with strings of lights or vining plants. It's important to note that a pergola is not going to protect you from the elements. Instead, it is intended to give you some relief from direct sunlight without blocking out the sun completely.
Renew Your Concrete Patio
Is your concrete patio looking a bit tired after the long winter? One easy outdoor update for Spring is to renew your concrete patio with concrete staining. This helps bring your old concrete patio back to life. If you have a few DIY projects under your belt, this can easily be a weekend project. Concrete stains are available in a variety of earth tones, with water-based stains offering more color options. If your concrete is especially old, an acid-based stain may be your best bet as it will take better. You can also renew your concrete patio by stamping the concrete. This requires pouring new concrete over the surface before stamping. While this can be a DIY project, it is complex and may be better handled by a professional.
Create Your Dream Outdoor Kitchen
Make your backyard the envy of all of your friends. If you've been dreaming of an outdoor kitchen, make it a reality this year. Creating an outdoor kitchen can be as simple as getting a high-quality grill and a set of outdoor shelves and light. If you opt for outdoor shelves on a rolling cart, the entire kitchen set-up would be portable. This is ideal if your outdoor space is smaller.
On the other hand, if you have a larger space and a larger budget, you can choose to get a prefabricated kitchen. These often come with built-in grills, islands, refrigerators, and countertops. Then there is always the option for a custom-built kitchen as well. However, a portable outdoor kitchen is the easiest option.
Refurbish Your Patio Furniture
A quick and easy spring project to update your home is to refurbish your patio furniture. As patio furniture ages, it's common to have paint chips, small patches of rust, etc. Make your patio furniture look new by giving it a fresh coat of paint. Spray paint tends to work best on metal frames of patio chairs and tables. Spray paint comes in a wide variety of colors, from high gloss to matte to stone textured. Just be sure to cover and tape any glass on patio tables so that the spray paint doesn't cover the glass. Also, make sure you apply the paint evenly to give it a high-quality finish.
Build A New Garden Shed
Garden sheds are handy storage that looks attractive in your backyard. A garden shed can hold your lawn supplies, tools, sports equipment, or even your holiday decorations. By having a separate shed to keep these items, you can keep your yard looking organized and free up space in your attic and garage. Your garden shed could be used for many things besides storage too! Turn a new garden shed into a playhouse for your kids or make it a quiet home office. The possibilities are endless! If you're handy, you can build a garden shed yourself. However, if you want to go the easy route, you can easily buy built garden sheds from local builders and big-box hardware stores.
Restain Your Backyard Deck
The elements can be harsh on your backyard deck, especially if you live in the North, where it gets buried under snow each winter. Help bring your deck back to life by restaining it. Staining your deck is a simple DIY project that can be done on the weekend. Use a pressure washer and give it a thorough clean before staining it. If you don't have a pressure washer many times, you can rent one from a home improvement store. Stain comes in many colors, including cedar, redwood, tan, gray, white, and even transparent. Pick whichever color compliments your home's style and your style.
Consider Outdoor Carpet
Outdoor carpets are one of the easiest updates you can give your space this Spring. You can cover your entire patio or use carpet tiles to cover high-traffic areas. Use them to help integrate more color into your space. Using carpets can also provide sweet, soft relief for your toes if you enjoy being outside without your shoes on. Outdoor carpets are designed to be outdoors. This means they are sturdy. They are often UV stable, meaning they won't fade in the harsh sun.
Additionally, they are waterproof and mold/mildew resistant. This makes it easy to wash and maintain. Get them in a color or pattern to pull your entire backyard together. There are many types and styles of carpet, so research various kinds to make the right choice.
Landscape Around Your Concrete Slab Patio
Investing in some new landscaping can take your backyard from drab to fab. Instead of suffering through the Spring with a boring cement patio, surround it with new flower beds, foliage, and mulch. Not only is landscaping beautiful, but it also has hidden benefits as well. For starters, surrounding your patio with plants can help keep it cooler. Then, depending on which type of plants you use, you may even be able to ward off bugs like pesky mosquitoes that start to come out in the springtime. Landscaping can also help freshen the air by capturing dust and smoke particles. Using a variety of plants, including small trees, large shrubs, etc., can help give privacy to your patio as well.
Buy An Outdoor Fireplace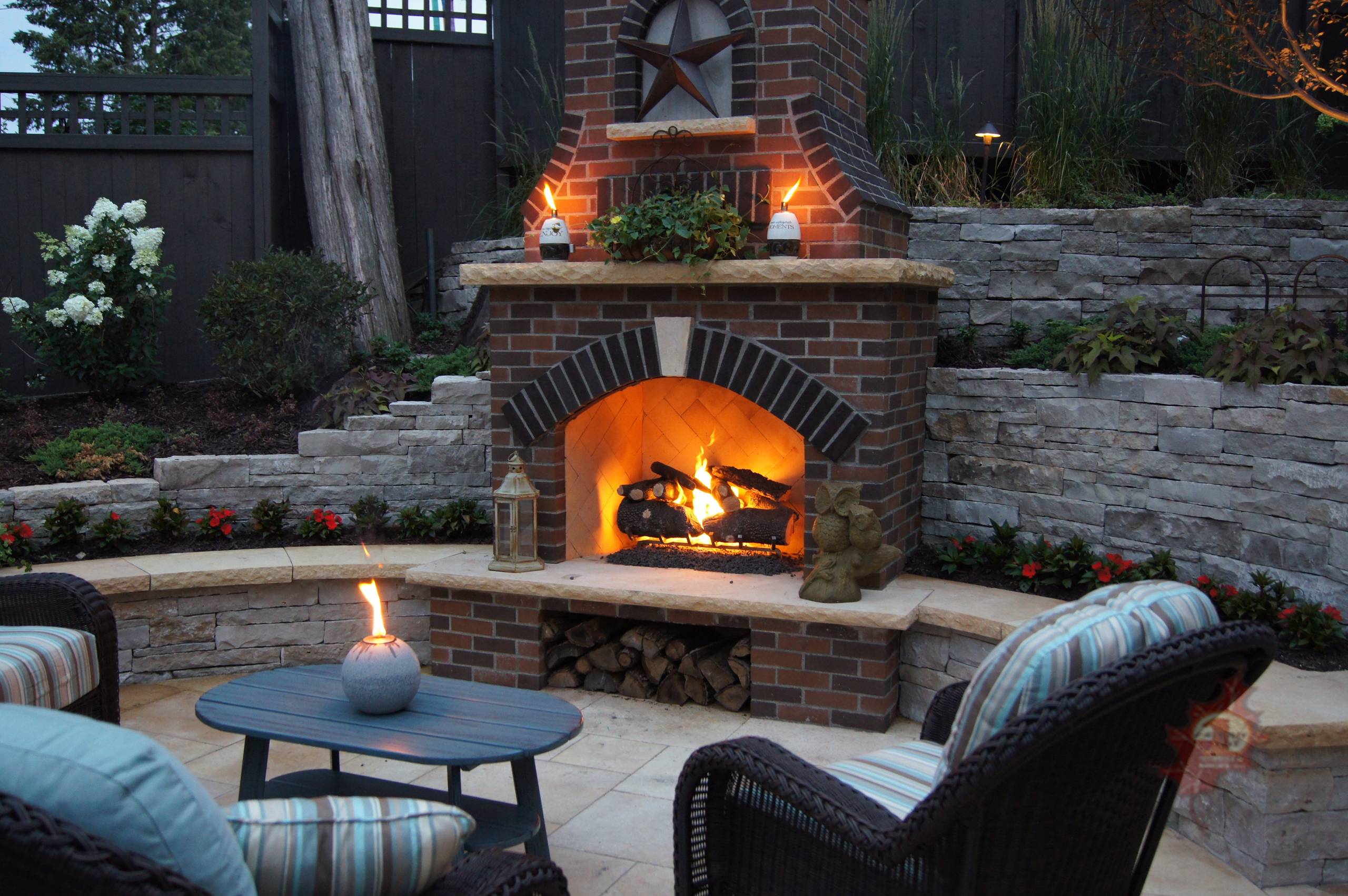 Buying and installing an outdoor fireplace is the perfect outdoor update for Spring. While the weather is getting warmer, nights are often still chilly. Purchasing an outdoor fireplace lets you continue to enjoy your outdoor space, despite the cooler evenings. Outdoor fireplaces can use either wood or gas, depending on which kind you buy. Besides keeping you warm, an outdoor fireplace also provides a focal point in your backyard. Your entire space can be designed around this focal point, giving your space both structure and definition. An outdoor fireplace can also give you that extra bit of light in the evenings. If you're looking for a romantic flair in your backyard, this is a great option.
Opt For A Gravel Garden
If mowing the lawn is your least favorite chore, opt for a gravel garden. These gardens cover large areas of your backyard with crushed stone. You can use them to create paths through your space or your entire patio area. Cover the ground with crushed stone and use a series of large pavers to create a pattern that is interesting and stylish. Gravel gardens go well with many styles, whether you choose to use one with raised garden beds, plant succulents instead of traditional shrubs, or use them as pathways. Gravel gardens make for an interesting visual element in your outdoor space.
Make A Colorful Seating Area
Adding a pop of color to your outdoor space can make a world of difference. Even if you don't have a green thumb, you can make a colorful seating area. Get colorful patio furniture and integrate various pieces of all different colors. Get bright-colored pillows, curtains, or even colored furniture itself. The color adds a bit of visual interest and pops against the natural tones of the outdoors.
Additionally, color also helps add a bit of personality to your outdoor space. The most important thing to remember, though, when working with color is to make sure you tie it all together. Having a bunch of random colored pillows isn't going to work necessarily. Instead, pick a single bright color that compliments a dark pattern or a bright pattern and solid colors from the pattern itself. This helps your space look well-designed.
Install New Outdoor Lighting
The type of outdoor lighting you use can change the vibe of your space. For instance, it can make your yard look elegant with focused lighting or festive with strings of lights. Figure out what vibe you want from your space and install new outdoor lights. This outdoor update for Spring could be as simple as getting a few new strings of lights for over your patio. Or, it could be getting new lighting along the paths in your garden or even illuminated planters. The options are endless. Just remember when picking out new lighting that the solution you pick is meant for outdoors. This keeps your property safe from fires and helps extend the life of your lights.
Plant A Living Wall
Many times when we talk about updating a space, we think on a horizontal plane. However, you can take your space to the next level by incorporating a vertical plane into your outdoor space too. One of the most exciting ways to do this is to plant a living wall. This adds more greenery to your space, can help clean your air, and adds visual interest. It's a win-win-win update. Plus, a living wall can incorporate new plants into your landscape, adding new colors and textures to the space. While it can seem intimidating, planting an existing wall is relatively simple. You have to purchase a kit, install it, and plant it. As long as you have a bit of a green thumb, you can turn your walls into living creations. If plants are not really your thing, but you still want a living wall, consider using succulents that are easy to care for and require less watering.
Simple Updates Can Have A Big Impact
Many of these ideas are relatively simple. Just a few well-thought-out purchases can give you the easy outdoor updates for Spring you've been looking for. While seemingly simple, these small things can have a big impact on the overall design and look of your outdoor space. So, if you're ready to get out of the house and start enjoying the outdoors more, incorporate these outdoor updates into your schedule so you can have the outdoor space you've always wanted.